Colosseum ticket
tilckets provider ticketing service
Colosseum ticket

Roman symbol.
Visit Colosseum, Flavian amphitheatre is the greatest Architectural wonder of the Roman Empire. Located in the heart of Rome near the Roman Forum, it was built in 70 AD under the leadership of Emperor Vespasian (Flavian family).

The Colosseum is thus conceived with the aim of demonstrating the all-Roman power. Build the largest amphitheatre in the Empire to offer ever more spectacular games and performances.
The Colosseum was completed in 80 AD by his son Titus. The dimensions are spectacular, 187 m x 155 m, the Colosseum has a capacity of 50,000 people and an area of 2.4 hectares. During its inauguration, Titus gave a Naumachia, he decided to create a gigantic basin to reconstruct the famous naval battle of Corinth against Corcyre. The Colosseum became famous for its Gladiator fights, for its spectacular Venetians (animal fights such as tigers, lions,…), Mythological reconstructions and other executions to death.
Engineering under the Arena.
The hidden part under the Arena is called the Hypogeum. This one is composed of numerous tunnels allowing to reach the Arena from points outside the Colosseum.
Thus the trainers could cross the basements with wild animals, the gladiators came directly from their barracks (Ludus Magnus) thanks to these many corridors. Under the Arena, there are many machines. 28 elevators, capstans and numerous hydraulic mechanisms. These machines allowed wild animals and Gladiators to appear from hidden traps on the arena. Some machinery supported the load of an elephant.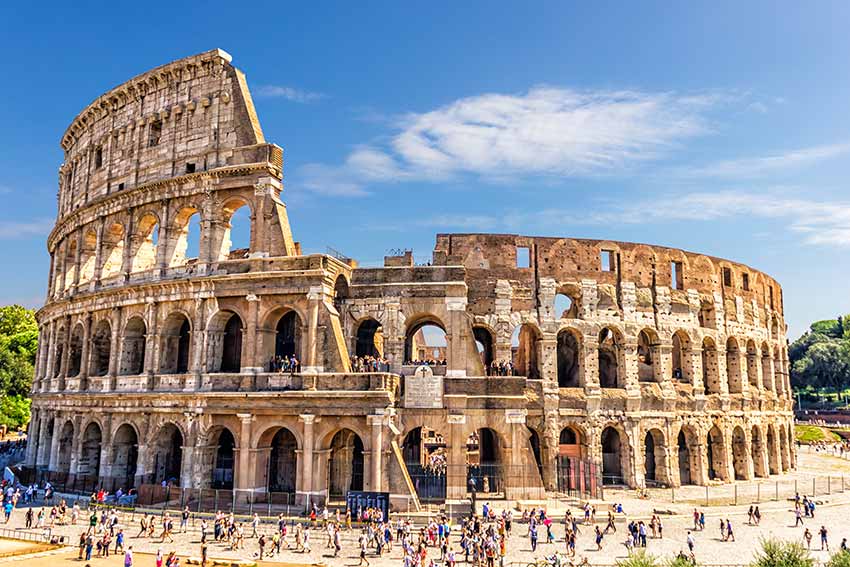 The hypogeum is still visible during your visit to the Colosseum, you can still see the many corridors and tunnels that allow you to walk under the Arena. Some guided tours allow you to discover the heart of the Hypogée, the tunnels and understand Roman engineering.
Skip the lines with the Colosseum ticket
At the entrance to the Colosseum, you will have two lines. The right queue allows you to take your Colosseum ticket, the waiting time is generally estimated between 30 and 60 minutes. The left queue is reserved for e-tickets, the waiting time is estimated between 2 to 5 minutes. The Colosseum is, together with St Peter's Basilica, the most visited monument in Rome.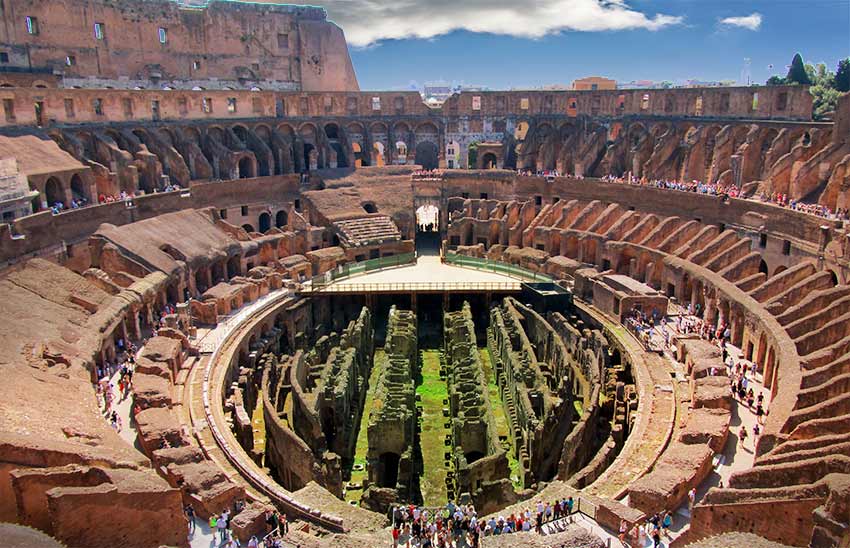 The Hypogeum, tunnels under the arena.
To know before visiting:
Your Colosseum ticket will also give you access to the Roman Forum and the Palatine. The Roman Forum and the Palatine are located near the entrance to the Colosseum.
Schedules:
Open every day.
July – August: 8:30 AM to 9:45 PM
September – June: 8:30 AM to 7 PM
Closing:
January 1, May 1, December 25.
Time to expect:
Audio-guided circuit Tour: 1h45.
By metro:
  MEB1     Colosseo Station (2 min.)
  MEA     Manzoni Station (16 min. )
By tram:
Lines 3 and 8 Colosseo Station (3 min.)
By bus:
Lines 51,75, 85, 87, 118, N2.
Affiliated with the Tiqets ticketing platform, tilckets is not the monument's official website. Tiqets is one of the monument's distribution partners.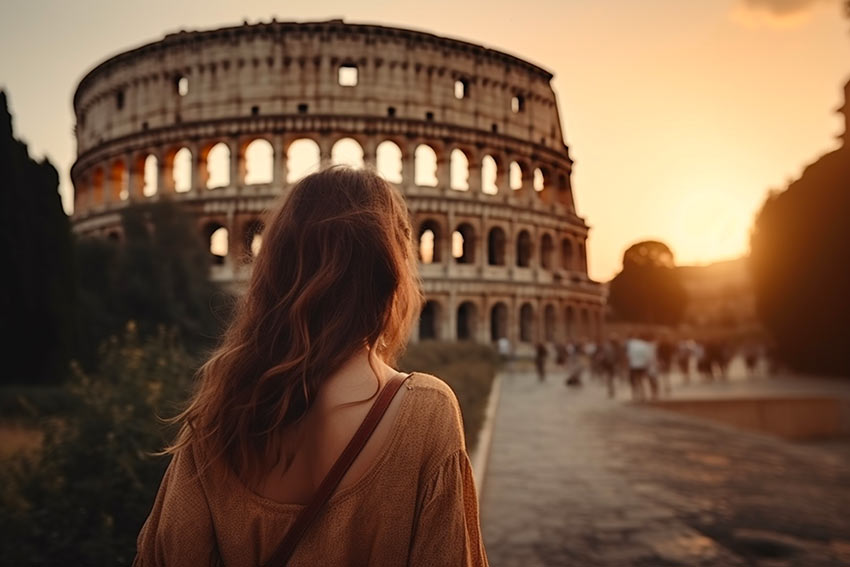 View of the Colosseum from Piazza Colosseo.